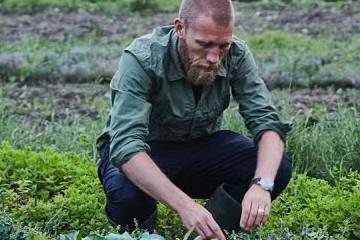 Mikkel Karstad Dinner
Presented by Broens Gadekøkken
Mikkel Karstad pops up at Broens Gadekøkken and invites you to join him for a long table gathering at the street kitchen location by the water. His family, wife and a few of the couple's four children, will join him and assist with serving and caring for the guests.

Mikkel believes in keeping it simple when he lets the vegetables play the main role and prepares the meal based on the season's organic vegetables from local producers, combined with wild herbs that he has gathered in the wild.

The menu will offer five simple green dishes and a dessert. Some of it raw, crisp and delicate and some cooked on the grill, so it gets some smoke, grill and character.
The food is served as a sharing plates at the long table, so you will have a chance to say hello to your neighbor guests.

Beer, wine and non-alcoholic beverages, can be bought from one of the three bars on location, where Mikkel will have selected a few favorites to match the food.

Address: Broens Gadekøkken, Strandgade 95, 1401 København

Read more:
https://thebridgestreetkitchen.com/