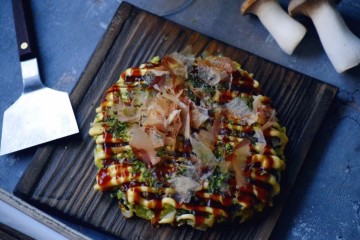 Okonomiyaki Cooking Class
Presented by Kimura's Kitchen
Learn how fun and simple it is to make okonomiyaki at home in this street food cooking class.? I will show you how to make both okonomiyaki and hiroshimayaki from scratch in the class, including making dashi and okonomi sauce, and I'll select seasonal ingredients for you.

Okonomiyaki means 'grilled as you like it' and anyone who has visited Osaka will know what this is all about: a savoury pancake with cabbage and spring onions, topped with bacon, a mouthwatering special sauce, and bonito flakes... There is an eternal battle between Hiroshima and Osaka about who makes the best version, so in this class I will teach you both, and let you decide. It's a really easy and fun dish to cook at home when you are out of ideas, as there are so many variations. I often feature the dish in my pop up events and cooking demos, as I'm a big fan of it.

Prices are 999kr per person, and includes everything: ingredients, drinks, and aprons.

Address: Prags Boulevard 50, 2300 Copenhagen

Read more:
www.kimuraskitchen.com