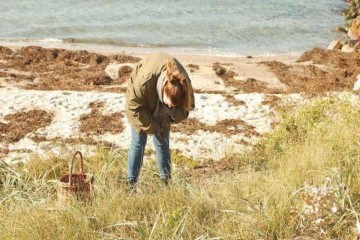 Foraging trip to Amager, Sydvestpynten
Presented by Sanketure.dk
You might know the beach, but have you noticed all the edible plants the beach hides? How about the meadows and forrest?
We can show them and help you recognize them, taste them and give you some good cooking tips on how to use it in the kitchen and make your food wild.

The beach has some of our favourite and some of the most sought after herbs that restaurants like Noma, Geranium and others use. There is a delicious choice in nature and particularly the spring season offers delicate, crispy and salty flavors you can easily apply and use in your own kitchen.
We will cover the beach, meadow and some forrest, so we will see some different environments in the spring season.

We can't guarantee certain plants as nature runs it's own course, and the animals also enjoy natures pantry, but we do expect to find enough for a meal you can take home and cook to really get a taste of wild food. We focus on the gastronomic aspect on our foraging excursions and we care about making meals wild, foraged and always delicious.
The trip be with Thomas and Nina and we will guide you around in nature to see what wild food we can find. Thomas is a professionel chef with many years experience of cooking with foraged and wild food, and will happily share cooking tips during the tour.
Together we have the company Kokkemanden.com where we share recipes, videos and photos of regular food and wild foraged food. Now we have started this company Sanketure to share the joy of foraged food with others.

The trip takes place on Sydvestpynten, Kalvebodvej 272, 2791 Dragør on the parking lot, where we will be foraging in nature Sunday the 29th of March 2020 at 01:00 PM.
It will be around 1,5 hours and we expect to walk around 5 km.
Dress according to the weather and feel free to bring a herbknife, scissors, bags, tubs or baskets for your foraged goods.

We look forward to sharing natures wild food!

Address: Sydvestpynten, Kalvebodvej 272, 2791 Dragør

Read more:
sanketure.dk/