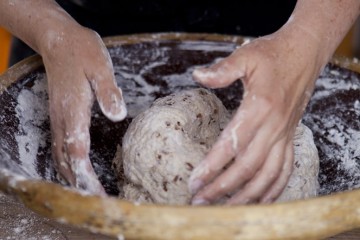 Baking Class
Presented by Hahnemanns Køkken København
How to master the skills of baking your daily bread. In this class you will learn some basic rules about everyday baking and get tips and ideas how to bake at home. We will also share information and stories about flours, organic practice, gluten and why bread is not just bread.We invite you to dive deeper into Danish baking culture and give a few insights to why HYGGE and baking is closely connected as part of home culture.

What you will learn in this class?

History of rye bread and a demo step by step. You will get some rye sourdough starter to take home, so you can bake your own rye bread at home, and you will of course get to bake as well.

In class we will bake

Cardamom snurre

Rye bread

Every day bun

Crisp bread

In our class

We will offer you tea, coffee, water and some snacks on arrival.
You will get an apron and be shown your work station.
There are max. 12 persons in a class.
The class is hands-on, and you work in groups of 4.
The class will end with a shared meal, and you can bring home the recipes as well as your baked goods.
This course can be taught in Danish and English and will take 4-5 hours. If you have any questions, do not hesitate to write us an email at kontakt@hahnemannskoekken.dk

What to know about Trine

Trine is an expert on and ambassador for modern Scandinavian food. She cooks, writes and lectures on the subject around the world. She is an advocate for sustainable solutions, organic sourcing and food cooked with love. Trine has written ten cookbooks in her native Danish and six in English.

Address: Hahnemanns Køkken, Sankt Kjelds Plads 14, 2100 København

Read more:
https://www.hahnemannskoekken.dk/kurser/