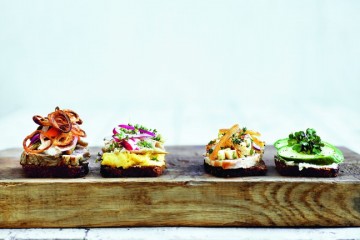 Smørrebrød class
Presented by Hahnemanns Køkken København
Smørrebrød is a unique Danish way of eating, one of the biggest Danish contributions to the world of food culture. It's an open sandwich, a piece of rye bread with a variation of toppings.

Instead of going out for dinner, come and explore the world of smørrebrød. You can also bring your friends and cook together – you might all find out about new smørrebrød recipes and favourites!

You will be able to make your own 3-4 pieces of open sandwich, with fish, meat and vegetables and one of your own choice.

Hidden rules are applied, and flavor combinations are important. Smørrebrød is both for everyday eating and special occasions.

At the end of class the tables will be set and we will introduce a variety of snaps and beer that goes well together with smørrebrød.

The class can be taught in Danish and English and will take 2-3 hours.

We will offer you tea and coffee, water and some snacks upon arrival. You will get an apron and be shown your work station. There are max. 12 people in a class.

After some background information and instructions, you will experience the cooking class and learn how to make the recipes yourself. You will be able to take all recipes of the class with you.

Address: Hahnemanns Køkken, Sankt Kjelds Plads 12, 2100 København Ø

Read more:
https://www.hahnemannskoekken.dk/kurser/