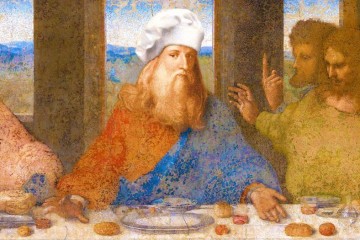 A DINNER WITH LEONARDO DA VINCI
Presented by Ristorante San Giorgio
A DINNER WITH LEONARDO DA VINCI"
on November 19, 20, 21 and 22 at 6:30 pm, Copenhagen's Ristorante San Giorgio combines culture and food into a unique event: on the occasion of Leonardo's 500th Anniversary; while listening to Renaissance music beautiful poetry and, you will enjoy an exclusive 5 course dinner inspired by the Italian genius's gastronomic cuisine.

Guests are welcomed with a sparkling aperitif and an introduction to Renaissance ingredients and Leonardo da Vinci's lively interest in gastronomy.

Chef-patron Achille Melis serves 5 exclusive dishes with ingredients and exciting recipes inspired by Leonardo da Vinci's Italian Renaissance cuisine. It is a tribute from the famous Sardinian chef to the great master da Vinci.

Each course is paired with exquisite Italian wines presented by sommelier Isabella Grussu. Guests will also have the opportunity to taste how a wine of the Renaissance tasted.

The soprano Margherita Canu, accompanied by Finn Hjarholt on lute, will intertain you with beautiful and evocative Italian Renaissance music during the dinner.

Between the courses, author and poet Pablo Paolo Peretti will recite poems by Leonardo da Vinci.

The evening's Renaissance dessert will be presented and served by Sardinian pastry chef Graziano Pranteddu.

Price per participation is DKK 880, including a 5 course dinner, 7 different wines and a unique entertainment.


Ristorante San Giorgio is awarded as the 36th "Best Italian Restaurants in the World" in the 50 Top Italy 2019 guide and the "Best traditional Italian restaurant in Copenhagen" by the famous guide "Gambero Rosso.

The event is part of the Italian Ministry and Embassies "The Week of Italian Cuisine in the World" and sponsored by INCANTOS, the Sardinian cultural association in Copenhagen.

Address: Rosenborggade 7 • 1130 København K • +45 71 34 18 25 • info@ristorantesangiorgio.dk • ristorantesangiorgio.dk